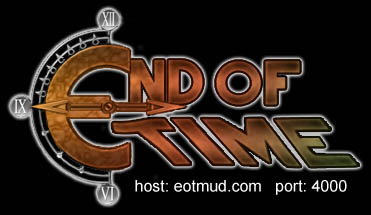 Overview | Races | Classes | World | History | Clans | Gameplay | MSDP/GMCP Protocol | Staff
---
End of Time differs in many ways from what many MUD veterans may be used to. We try to stand out from the endless sea of Stock ROM clones without losing what makes a MUD feel like a MUD. We aren't trying to become a text-based version of a Final Fantasy, but rather a MUD first and foremost that just happens to be very focused on our theme. Below are several features that may or may not be different from a typical MUD:

Customized Characters:
Detailed Character Creation:

Select one of nine races at character creation, with more race options in game.
Four Base Classes available at creation, each with several Promotion options.
Choose your own Weapon Types rather than being restrained by what a particular class can learn.
Inspired by Chrono Trigger and Chrono Cross, select your Innate Elemental Alignment. This works first by choosing a primary Innate Element, then selecting a Secondary. While a character can basically choose to have these choices affect them in relatively few ways, there are several things that they can do. Magic Users are particularly skilled with their chosen Elements, and everyone deals a little more damage to someone of their opposite element and gains a little bit more experience.
Select various traits about your character, including Age, Height, Weight, Eye Color, Hair Length and Color, and depending on your race, varying combinations of Skin Tone/Color, Fur Color, or even the color of your Scales. These format into an eloquent line at the bottom of your character description for others to be able to pick out quick and noticable things about your character. This also helps to distinguish one character from another as some people simply never bother to write a character description.
Select various combinations of among 50 Merits and Flaws. Different Merits and Flaws have various point values, with a maximum of 10 points in Merits, with no limit on Flaws. Some merits include: Immune to Primary Element, Bloody Mess, Lower TNL, Lucky, Better Consider... Some flaws include: Speech Impediment, Crazy, Nightmares, Slow Healer, Missing Arm, Unlucky...
Select one of three hometowns, each with their own starting quests and Government influence.

Highly Customized Limit Breaks:

Name: Set the name of the Limit Break to anything you want!
Command: You can set it to trigger on any input you desire.
Messaging: Customize what it says to you, the victim, and the room!
Limit Break Effects: Depending on the level of the limit break (you gain several blank limit breaks at various levels depending on how frequently you use them), then you have several available options on what to make it do. Want it to deal damage based on the difference between your current and max hp? What about making it heal you and your group? Want to deal magical or physical damage based on your Innate Element?
Limit Break Modes: Inspired by Final Fantasy X, depending on your character level, you have several different options available to decide what causes your limit break meter to increase. Among others, you may choose to have it increase when you suffer damage, when you deal damage, when you are fighting with a group, when you kill a mob, when you heal someone, and many more.

Want to show off when you kill something? Set a personalized victory dance that will trigger upon killing anything.
Our skill learning system works off of finding a teacher and being taught a skill. While most skills are confined by a particular class, not every character will decide to learn every skill the class can learn, and not every character will find everything another character may find. In addition, there are numerous skills that are available as reward for questing, or for simple exploration. Many skills will be implemented that aren't class-specific, the only requirement will be to find the teacher.
For those characters who contract Lycanthropy, they have the ability to set a custom transformation message and a custom Lycan-form description that will replace their normal description when they have changed. Something similar to this and Limit Breaks is also implemented for the Morph ability of Cetra/Half-Esper characters.
Quest Points available that will allow a player to be able to have equipment restrings that will help tailor equipment to the character.
Combat System:
The typical combat rounds of a typical MUD are thrown out the window. Now instead of each character attacking at pre-defined intervals at the same time, your character's Speed stat (largely influenced by Agility) is the determining factor in how quickly your attack rounds occur. If you have significantly higher Speed than your opponent, you may attack twice to his or her once.
While in combat, you have several different options on how to fight:

Tension: Using this will cause you to stop fighting while building up tension, which increases your attack damage and accuracy. It will continue until your tension cap is reached or until tension is used again, both of which will unleash a devastating attack.
Defend: When a character defends, they will stop attacking, but receive 30% less physical damage as well as a great boost to all of their defensive skills.
Assault / Flurry: Offensive combat stances that spend a portion of your MP per round. ASSAULT significantly increases your attack power, while FLURRY significantly increases your attack speed. Each lasts for a minimum of 4 rounds, to a maximum of 7 rounds dependent on high VIT or WIL respectively, and they share a one minute cooldown. You must master ATTACK in order to learn both ASSAULT and FLURRY.
Row: Inspired by Final Fantasy, choose to fight from the back row and you become less of a target from mobs as well as receive less damage. You deal less damage with most weapons, however.

We place a high emphasis on group combat, as you suffer less of an exp penalty from grouping with others compared to other games. In addition, when fighting in a group, there are skills to help out your fellow groupie via rescue, or taunting the mob to change their focus. Combination skills, known from the Chrono series as Dual Techs and Triple Techs are available as well, although we don't limit the combination skills to just three members.
Our mobs offer a bit more of a challenge than many others, as they won't soon forget if you have attacked them. Others may even decide to give chase if you run. In-line with grouping, each player in a group has a threat level and depending on who the mob finds to be the biggest threat, they may turn their attention from the "Tank" or "Meatshield" and change their focus. Players may rescue others or even taunt the mobs to change the threat levels.
We offer in most of the dungeon areas of the world a system many RPG fans will be familiar with: Random Encounters. Tired of waiting outside of an area for the mobs to repop? Well, head to a dungeon where that concern is extinguished. We have focused also on having numerous alternate static-reset areas for the adventurer who benefits from big opening damage, such as Mages and Thieves.
No more lag time! Rather than hitting bash then having to wait 30 seconds to be able to do anything else, you enter into a "wait state" where you are restricted from doing certain combat commands, but other things such as typing who, chatting with a buddy, looking at your score sheet, etc. are all still available for use. No more annoying lag as a result of various actions. No more bashing several times, only to find your hp low and then frantically trying to flee only to find that you still have 3 more bashes to get through in your buffer. In addition to wait time, each skill also carries with it a cooldown. The cooldowns are typically far greater than the wait times, which cooldowns only affect the skill (and occasionally a related skill) to the one in cooldown. As an example, you can bash and then may have a bash cooldown of about 15 seconds and a wait timer of about 2 seconds. Once the wait time is up, you may then choose to trip, which will carry it's own wait time and cooldown. This makes for governed use of individual skills while also keeping the pace of combat faster.
Magic System:
Unlike most MUDs where spells are relatively meaningless, where you sling them while landing hits and doing numerous other things at the same time, when you cast on End of Time, you enter into a state of concentration as you draw your pattern. You stop attacking for the duration of the casting time and enter into a similar type of "wait state" as described above, but when the spell hits, it will be devastating. Immediately after the spell lands, you are free to act.
While in the casting wait period, you have several options available to you to further define and manipulate your spell:

Truncate: Cancels your spell immediately
Widen: Certain spells may be widened to hit more targets. Widen once and it will hit your target and his or her entire group. Widen twice and everyone in the room gets hit.
Expand: Need to get that spell out just a bit quicker?
Compress: Need more time to otherwise manipulate your spell? Compress will slow the flow of mana to your spell and make the casting time longer and give you more time to do more with it.
Brighten: This will pump more mana into the spell, increasing its cost, but will also cause the spell to be cast at a higher level, making it more effective.
Fade: This will pump less mana into the spell, decreasing its cost, but will also cause the spell to be cast at a lower level, making it less effective.
Target: Use of target will change who your spell is aimed at.

Elemental Fields, reminiscent of Chrono Cross, have been introduced as yet another element of strategy into the world of magic casting. Each elemental spell has a specific alignment, and with each cast, 1 of the 5 elemental fields of the room are changed to match that elemental color. Fill the field with a specific color, and all damage by that color is greatly increased while all damage by the opposing element is greatly decreased.
Each Magic User that creates comes into game with the first spell of their Primary Innate Element. They may learn the other base elemental spells, but each character will always be more effective with (and resistant to) spells of their Innate Element. Upon learning the spells of their Primary and Secondary Innate Elements, a Magic User will begin to learn spells that are a combination of their two elements. For example, someone who is Red and Green and gains enough proficiency in those two elements will be able to learn Magma based spells. Base spells are improved through use, which puts the Magic User in complete control of how quickly they learn their elemental spells, and which elemental spells they learn. You could say that the Elemental Magic system is self-taught.
Stacked Casting: This may be best to illustrate than describe. If I cast fireball at an enemy, then find my hp low, rather than using truncate to cancel the spell, I may just simply cast cure. Casting of this second spell will "pause" my original spell fireball, and after my cure is finished, fireball will resume where it left off. There are also various combinations of spells where one may be overlain with another. For instance, if I cast fireball (Red spell) and Tremor (Green spell) than the two patterns will intertwine and form the spell magma splash (Magma spell).
Speedcast: Allows a Magic User to cast a spell much, much quicker, but it takes a lot more mana and reduces the overall effectiveness of a spell.
Summon Magic: Also in tradition with Final Fantasy, Mages may find, obtain, and call to their aid powerful magical beasts. What the Summon does varies between each one, but upon casting the spell for the Summon, the caster is protected from harm until the casting finishes, at which time the Summon will appear and aid the caster. If the Summon takes enough damage while protecting the caster during the actual casting, the pattern will dissipate and the summon will not take place.
The World:
We offer a well thought out world with well-described areas.
Leave a town and explore our beautifully designed world map.
The vast majority of our areas have been built directly from the various Final Fantasy games, Chrono Trigger, Chrono Cross, and a handful from Seiken Densetu 3.
As of March 2014, we have 136+ completed areas with over 11,000 rooms.
Three World-Power Governments (Guardia, Empire, Shin-Ra) with their own areas of territory and control, along with three rebel clans (Mystics, The Returners, AVALANCHE) and one non-RP adventurer clan (The Treasure Hunter's Consortium).
Several different area choices for any level character.
Miscellaneous:
Class Promotion quests allow a character who has progress through the storyline and has obtained level 50 to become a stronger, alignment-dependant version of their class. Level 80 promotions are in the works.
Racial Skills gained every 20 levels.
Lycanthropy, Vampirism, and Unsent: Not so much a "true" race, but more of a template that is applied ontop of an existing race/character. Contract Vampirism, for example, and you retain any previously gained racial traits and skills, but from that point on will only gain Vampire racial skills. Lycans may also customize the type of shifter they are by setting a custom transformation message and description.
Experience gained through skill use and improvement... no longer is the only way to gain experience through the mindless grind of killing monsters. Also, various area quests will also provide a nice chunk of experience for a reward.
Several aspects of annoying stock features removed, such as no movement points or hunger/thirst. Also, no longer do you need a light to see in the dark. We want to entertain our playerbase, not annoy them.
Chocobo Racing: Go to the Chocobo Racing Track and watch a race, or if you are feeling lucky, place a bet. You may even buy your own Chocobo and feed it various things that will cause it to grow with different stats. When you feel your Chocobo is ready, enter it into races and if it wins, you receive various prizes. You may also take your chocobo out for a ride on the world map, helping to avoid random encounters and even dig for treasure.
A full featured and fully playable Triple Triad collectible card game inspired directly from it's Final Fantasy VIII counterpart.

More information and more recent updates can be found at any of the following:
Facebook The MUD Connector MUD Listings Grapevine
MUD Portal MudBytes Top MUD Sites MUD Stats
End of Time Wiki Page
Final Fantasy, Chrono Trigger, Chrono Cross, Seiken Densetsu are all copyright (c) Square Enix CO., LTD.