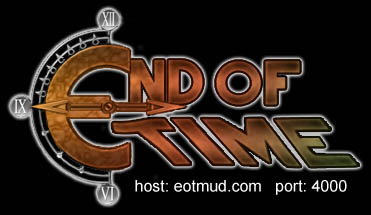 Overview | Races | Classes | World | History | Clans | Gameplay | Staff
---
End of Time specific OLC Guide
This is a pure text format at this point and is also available as a 'book' in game. A fully HTML version is coming soon.
End of Time specific Mprog Guide
If you wish to build, please apply here.
More coming soon!

Final Fantasy, Chrono Trigger, Chrono Cross, Seiken Densetsu are all copyright (c) Square Enix CO., LTD.